** At All Habs, we're proud to feature the fine work of hockey writers who follow potential draftees all year long and share their analysis with you.  Preparing for the draft is easy, just visit the All Habs Draft Centre. **
Montreal Canadiens
A Complete Mock Draft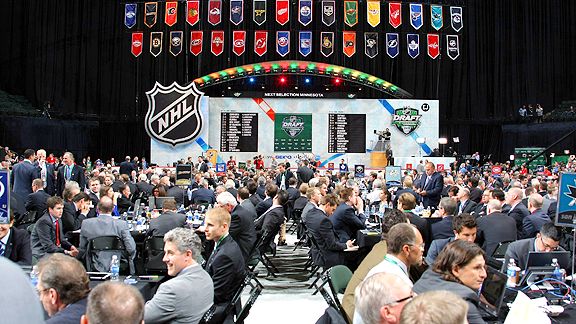 by Robert Rice, Senior Writer, AllHabs.net 
TORONTO, ON — With knowledge of exactly where the Montreal Canadiens will be drafting, I humbly make my offering of a potential drafting order for the Montreal in the upcoming NHL Draft. These assessments were attained using a median comparison of the draft rankings of the McKeen's Hockey and Future Considerations Draft Guides. Any player projected within five spots of any pick in the 2nd round or later is considered 'in play' due to the uncertainties of any draft.
The number of each of these picks is an estimate based on the current projection at Habs Prospects, which I then compensated for because of the forfeited pick.
The Montreal Canadiens currently possess picks in the 1st, 2nd, 3rd, 4th, 5th and 6th rounds of the 2012 NHL Draft.
1st round: 3rd overall
2nd round: 33rd overall, 51st overall (Coming via the Hal Gill to Nashville trade)
3rd round: 64th overall
4th round: 94th overall
5th round: 122nd overall
6th round: 154th overall
First Round:
With the 3rd overall pick, the Montreal Canadiens are proud to select: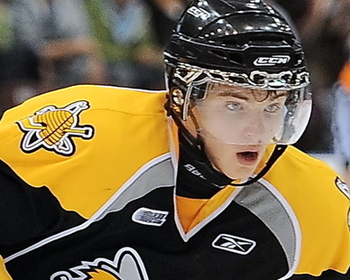 C Alexander Galchenyuk of the Sarnia Sting, OHL.
 Height: 6'1"
Weight: 190 pounds
Shoots: Left
Galchenyuk possesses elite hands that allow him to make precision passes at will or score with a deadly snap shot, but he is considered a playmaker first. Hockey sense and on-ice vision are considered major strengths, Galchenyuk arguably bows to no one in the entire draft in this category. Skating is not an issue, even with a lingering knee injury there have been no concerns in the overall mechanics of his skating since his return. Physical play is a part of Galchenyuk's game, he will engage physically to make a play and is very good at protecting the puck when he holds it. Galchenyuk's dedication to conditioning and on-ice work ethic offer the very enticing package of the character player who possesses elite skill to make himself that much more of a threat on the ice. Galchenyuk is potentially the most complete player in the draft and a future star.
Organizational Benefit: A blue-chip centre in the system with top-line potential. Galchenyuk fills out essentially every check mark the Canadiens, or any other NHL team might be looking for in a Number One Centre in an overall talent package.
Second Round:
With the 33rd overall pick, the Montreal Canadiens are proud to select:
LW Stefan Matteau, US National Team Development Program
Height: 6'-1.5"
Weight: 210 pounds
Shoots: Left
The Canadiens look to boost their forward talent crop and put a strong power forward candidate into their system for the first time in several draft years. Matteau plays more of the classic power forward, tending to put his weight behind all of his checks and playing a bit over the edge at times, taking penalties or even suspensions in the process. Has a strong shot and displays some talent as a playmaker. His skating projects well as a potential NHL forward and when mixed with his aggressive style, paints a picture of a player no one is going to like forechecking in on them.
Organizational Benefit: Adds a talented skater to the left wing position, a current depth issue in the farm system and provides a potential heir apparent to Erik Cole. Matteau's background also grants the team an added benefit in the 'hometown talent' department.
With the 51st overall pick, the Montreal Canadiens are proud to select: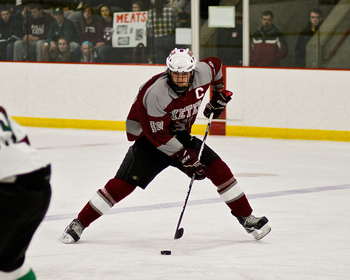 RW Brian Hart, Philips Exeter, US High School Hockey.
Height: 6'2"
Weight: 215 pounds
Shoots: Right
The Canadiens double up on power wingers in this draft, selecting the Harvard-bound Brian Hart. Hart brings pure force to any game he plays, taking advantage of his size to drive right to the net and does not slow down in the process. Possesses one of the hardest wrist shots in this draft and uses it with frequency while showing good possession skills. A good skater, moves faster than one would expect for a skater of his size. Questionable work in the defensive zone however is a drawback to his game at this stage. Criticisms arise that he has only dominated High School hockey, while others feel his laid-back attitude at times was because he was simply too good for his current level of competition and eased off. Until he plays at a higher level his ability to play at higher levels will be in dispute.
Organizational Benefit: Adds another power forward into the team system, this time with a right-handed shot. With both Matteau and Hart, Montreal will have two viable power forward prospects for the first time in many years.
3rd Round:
With the 64th overall pick, the Montreal Canadiens are proud to select:
D Dillon Fournier, Rouyn-Noranda Huskies, QMJHL.
Height: 6'2"
Weight: 170 pounds
Shoots: Left
Fournier possesses attractive qualities in his offensive instincts, smooth skating and good passing ability. Primary drawbacks are present are his underdeveloped physical frame and concerns about his decision making. However, his overall size, skating and offensive talent make him a reasonable choice, if not a steal as he's flown under the radar this season playing through a poor season by the Huskies. He will be a project player for some time however given his need to add weight to his frame.
Organizational Benefit: Adds another sized defencemen with offensive upside to the system. Like Matteau, Fournier adds to 'hometown talent' to the system.
4th Round:
With the 94th overall pick, the Montreal Canadiens are proud to select:
LW Mitchell Moroz, Edmonton Oil Kings, WHL.
Height: 6'2"
Weight: 210 pounds
Shoots: Left
Moroz is a very engaged checker, doesn't mind being hit and will drop the gloves if he is challenged. He's displayed an ability to protect the puck while on offence and as a penalty killer. His skating has flaws in it's acceleration but he reaches a very good speed once he's moving. Limited puck skills and offensive vision likely relegate him as at best, a third to fourth line checking forward.
Organizational Benefit: Left wing depth is important and Montreal adds a checking forward that will bring a physical nature to the team at the same time.
5th round:
 With the 122nd overall pick, The Montreal Canadiens are proud to select
 C Ryan Olsen, Kelowna Rockets, WHL
 Height: 6'2"
Weight: 180 pounds
Shoots: Right
 A project player, Olsen offers Montreal the chance to add some low-risk depth to their depth at centre. He offers good size, but needs to learn to utilize it more effectively and fill out. Possesses a good skating stride, but it could use improvement. He displays very good hockey smarts and has a decent shot. Production is below what was expected of him however considering the tools at his disposal.
 Organizational Benefit: The Canadiens are a bit light on skilled centres and Olsen lets them add a good project into their system.  
6th Round:
With the 154th overall pick, the Montreal Canadiens are proud to select:
RW Vladislav Shalimov, Val-d'Or Foreurs, QJMHL.
Height: 6'2"
Weight: 180 pounds
Shoots: Right
Shalimov represents a typical low-risk, high-reward choice of the 6th round. Shalimov is considered to have a high talent level and can play dominantly, but displays issues with consistency and arguably work ethic. At this point, teams are fortunate to find a player who can fire a puck on net with accuracy, so Shalimov is a worthy choice by benefit of having skills and potentially the ability to learn consistency.
Organizational Benefit: Scoring forwards are elusive, if Shalimov can realise his potential, they get a good-sized scoring winger for very little invested.